 Corrosion test
Corrosion test i.e. salt fog test is highly accelerated tests intended mostly for material or surface coating corrosion resistance characterization purposes.
Corrosion test (i.e. salt fog test is essential to understanding how different surface coatings perform. These tests have a wide range of applications, ranging from medical products to materials used in car and aviation industries. For example all car parts are exposed to corrosion, and it is fundamental to test how these materials perform in tests.
A well performed corrosion test is the only way to understand if a product, its' parts and coatings can endure corrosive environments. A product can have different materials that are all exposed to a diverse range of corrosive stress. For example in coastal areas most materials are exposed to salt spray, or in northern winter driving conditions cars are subject to salt corrosion from salted road surfaces. Corrosion takes a long time to develop. Thus, is therefore not cost effective to test it under natural conditions. Therefore our accelerated and accredited test in a simulated salt chamber is a reliable and effective way to understand how materials perform.
How to perform a corrosion test?
Standards are important in product development. That`s why, the foundations for Toptester testing services are formed by industrial standards. The typical standards for corrosion tests are IEC 60068–2–11 and ASTM B117.11 and ASTM B117.
In Toptester laboratory, tests are performed in a salt chamber, simulating different corrosive environments. lt chamber, simulating different corrosive environments. The base-line salt spray test is implemented in a chamber with +35 degrees celsius and a 5% NaCl solution.
However, when materials or products are exposed to more extreme corrosive conditions like acid industrial environments, a modified cyclic salt spray or a ph-modified test is used.
Test Features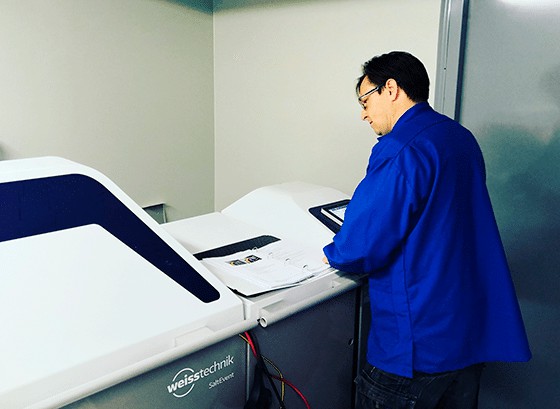 STANDARDS
IEC 60068-2-52
Nema 250 / ASTM B117
Def(AUST)5681 section 7.6.1
IEC 60068-2-11
MIL-STD 810G, Method 509
Customer´s own standard

TEST EQUIPMENT
Weiss SC/KWT 1000
Test space volume 1028 litres (1675x645x1140 mm WxLxH)
Temperature range 5K above ambient to +50oC
Humidity range ambient to saturation (1675x645x1140 mm WxLxH)
Several test standards, eg. DIN 50021, MIL STD 810 Method 509, IEC 60068-2-11 – test acceleration with acetic acid possible