 Vibration test
Vibration testing is needed to estimate the impact of mechanical vibration to products during its life-cycle, from transportation to end-use period.
Vibration tests are necessary for products that are known to experience some form of vibration during their service life. These tests work best as part of the product development process when they are completed before the product is put into production. In this way, key information about a product's properties and durability is obtained in time to help guide the product development process.
There are several possible sources of vibration during a product's life cycle. For instance, in vehicles, sources range from engine vibrations to road surface shocks. Similarly, the transport of the product may be associated with vibration, as an entire package may experience shocks and vibrations in transit.
Testing with a shaker system during the R&D phase of product development enables developers to identify structural design flaws early in the process. If missed, these types of errors are potentially very costly and can result in high maintenance costs inside the warranty period during the product's life cycle. Thus, it is financially sensible to correct these types of errors at an earlier stage. It is still possible to react cost-effectively to the results and feedback of tests performed during the product development phase.
How are vibration test performed?
Toptester Oy's personnel have extensive professional skills in product life shocks and impact tests. Testing is performed by skilled personnel with a Tira shaker system combined to a slip table in a frequency spectrum of 1–2000 Hz and accelerations of up to 200 g. Toptester allows you to test your device against a specified vibration standard or generate a custom-made vibration test against your own data as measured in your product's actual-use environment.
Vibration tests can also be performed by accelerating the test so that the vibration experienced by a product during its lifetime (8000–10000h) is condensed into a 32-hour time frame. Vibration tests and their results tell the customer how to determine, for example, the warranty period for a product or a standard maintenance schedule. All of our vibration tests are Finas accredited.
Test Features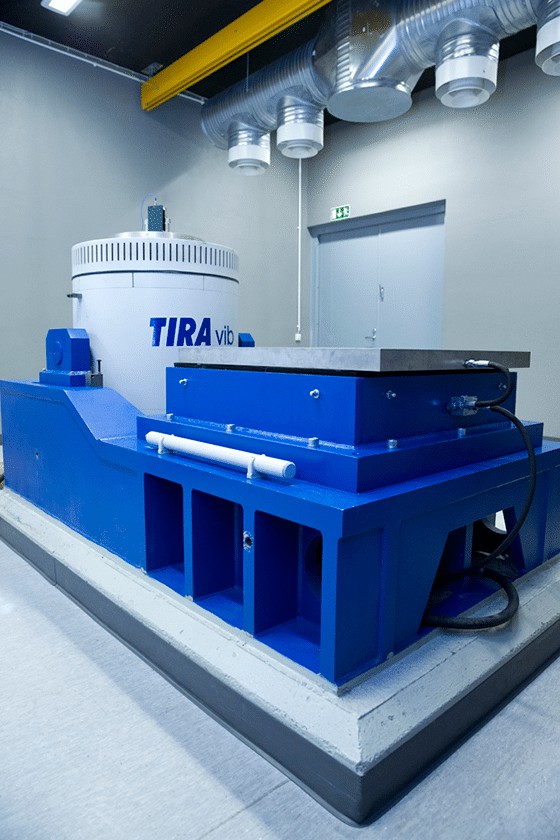 STANDARDS
IEC 60068-2-31
IEC 60068-2-55
IEC 60068-2-57
IEC 60068-2-64
IEC 60068-2-80
IEC 60068-2-81
IEC 60068-2-6
MIL-STD 810G, Method 514
IEC 60068-2-27
MIL-STD 810G, Method 516
IEC 60068-2-29
IEC 61373
Customer´s own standard
TEST EQUIPMENT
Vibration test system Tira TV 59335/RIT-440 with Slip table
Rated peak force (N)/(lbf) Sine/Random/Shock 35000 / 35000 / 70000

Frequency range (Hz) 1 – 3000 Max. rated travel (mm)/(inch) Pk – Pk 76.2 / 3″ / Long stroke version
Max. velocity (m/s)/(inch/sec) Sine/Random/Shock 1.8 / 1.8 / 2.5
Max. acceleration (g) Sine/Random/Shock 100 / 100 / 207
Effective moving mass (kg)/(lb) 36.5
Max. weight tested (kg)/(lb) 610
Main resonance frequency (Hz) >2400
Slip table – TGT MOH 30 XL
Moving plate working area: 762mm x762mm, Displacement limit: 62 mm, Slip plate weight: 56 Kg
Slip plate thickness: 50 mm
Number of bearings: 2, Hole pattern: 100mm x100mm / M10
Max. pitch moment: 32200 Nm
Max. roll moment: 34000 Nm
Max. yaw moment: 24700 Nm
Load support table for Z-direction
Frequency range: 5 – 2000 hz
Dimensions: 1000×1000 mm
M10 bolts with 100×100 mm grid
Maximum mass on top of the table 1000 kg