 Failure analysis test
Failure analysis collects and analyses data to determine the cause of a failure. The analysis requires product background information and information on. Toptester has a fully equipped analysis laboratory to detect failure modes.
Failure analysis investigates defects in a product and seeks to find the causes. Why or how does a product break? In practice, different products often have product-specific and, in some cases, very typical fault processes. Failure analysis is, by its very nature, a technical analysis. This analysis can be used, for example, in process analysis or even in accident investigation and is also useful in determining product life and life cycle. Reliably done fault analysis saves time, money and resources. The analysis serves not only to support product development but also to improve existing products.
The causes of faults are often complex, and it is not at all clear that a presupposed cause would actually lead to a fault. The occurrence of a defect may be related to the product's design, manufacture or use.
Failure analysis is a process – a case study
The analysis is widely used, for example, to determine failures in electrical and electronic equipment and their causes. In practice, there are several different analysis processes and methods. Visual observation is part of the process. In each case, the expert test house selects the most suitable one for the product to be tested and for the failure process.
In cross-section, the part or component to be examined is cast inside a resin, which aids the grinding and polishing step. The cross-section reaches, for example, the point between the circuit board and the tin solder, which can be viewed visually with the eyes or with a microscope. Sample has also proven to be an excellent way to study welding joints and seam penetration into the base material. With table X-ray, we can examine handheld devices of the size range, and this method is also very useful for examining welds.
Watch this video from Toptester's test lab. At the end of the video, the laboratory prepares sample from the circuit board.
We also offer a wide range of high-quality tests adding to failure analysis, to support product development, material tests and heat and humidity tests.
Test Features
TEST EQUIPMENT
Cross sectional preparation
X-Ray
Microscopes
Weibull software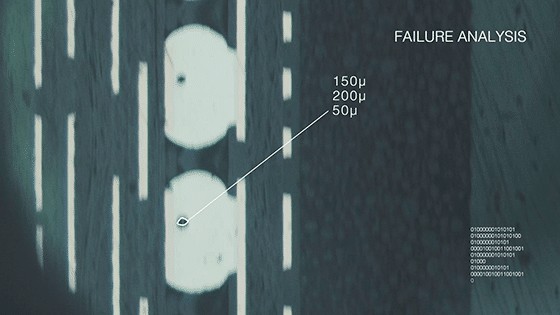 In cooperation Toptester can utilize following equipments in Failure Analysis:
SEM+EDS
3-D X-Ray
SIMS
Microsection
Hot & cold mounting
Decapsulation mech. & chemical
Hardness test